Has anyone seen the new Banana Republic add campaign, The Lucky Dozen? Someone from Style Magazine took 13 key pieces and styled them in 31 one ways. After seeing the add, I've decided to take on the challenge for the month of October. I've only purchased one new item and the rest will come from my closet. My reasons for taking the challenge:
1. I want to feel more put together at work and could use the coaching
2. I've gained a little bit of weight and lots of my clothes don't fit. With the challenge I can focus on using my clothes that do fit and work on the rest at the gym.
3. I can't complain all month that I don't have anything to wear.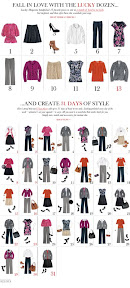 I will be using a few more pieces than the 13 shown, mostly due to my travel schedule and working on a construction site when I am away.
My pieces:
1. Using two different cream colored detailed blouses
2. I'll be replacing the skirt with a light wash Jean
3. I'll be changing between black flats and black suede ankle boots
4. I'll be changing between nude flats and brown Oxford heels
5. This was my purchase, a light blue non iron button down
6. I'll be using my trouser jeans
7. I will brave a dress!
8. I'll be using dark gray dress pants
9. I'll be using a knit vest
10. I have a skirt picked out, or I'm replacing with skinny jeans
11. I have two dressy athletic tops - required for my active days on job sites
12. I'll be using a short sleeve black cable knit sweater
13. I'm cheating a bit here as well and will be incorporating three different blazers, black, tan, and brown
I hope to post the outfits I try each week. This week I will need to add in my travel jeans, the dipper Jean from Athleta. Plane travel and job sites call for rugged bottoms!
Have you done a mix and match clothing challenge before? Did you put together the outfits yourself? Or take some guidance from a pro?
- Posted using BlogPress from my iPad